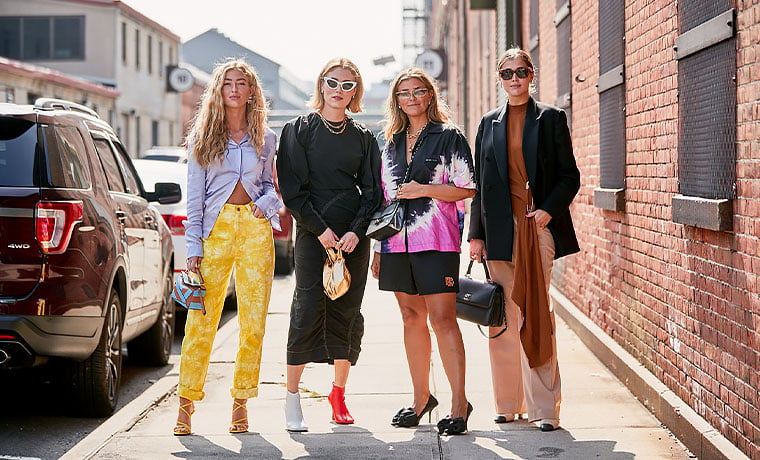 When we say goodbye to a year, we also say goodbye to the fashion of the past seasons. While some key pieces stay stylish forever, there are plenty of new accessories that everyone will wear in the new decade. As the temperature rises and falls, these pieces will stand the test of time and become an essential addition to your wardrobe. Here are twelve accessory trends we'll be wearing in 2020, from casual handbags to padded headbands.
1. Chunky boot
As the weather approaches with the sweater on, it is important to keep your feet warm and dry. Choosing a pair of shoes for temperature this season means you can't look past chunky boots. With a low heel and rubber platform, these are a comfortable and elegant option to wear with a feminine dress or jeans. They're perfect for an evening on the town or a stroll through the park – it adds instantly Grunge twist to your outfit. For the ultimate badass look in 2020, opt for a knee-high silhouette with a mini skirt – give this stylish ensemble a 90s touch and be a real eye-catcher.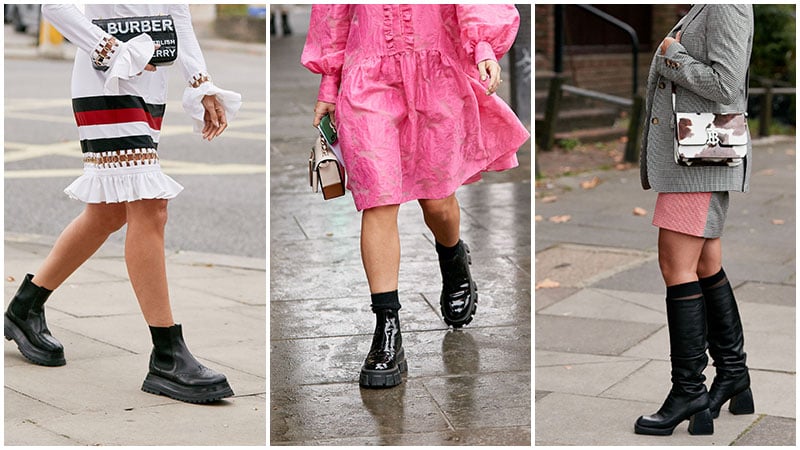 Get the look
2. Pouch pockets
What could be nicer than a handbag that holds all of your goods? A stylish one! These bucket bags never really went out of style, but they come out stronger than ever with these stunning options. From a soft silhouette from Louis Vuitton to a Barbie-like design from Chanel, this is an accessory that you will keep with you forever. Instead of going for a traditional shade like black, gray, or white, step out of the box and opt for something blue, pink, or marigold. There are so many ways to rock this look and you can still wear it for decades!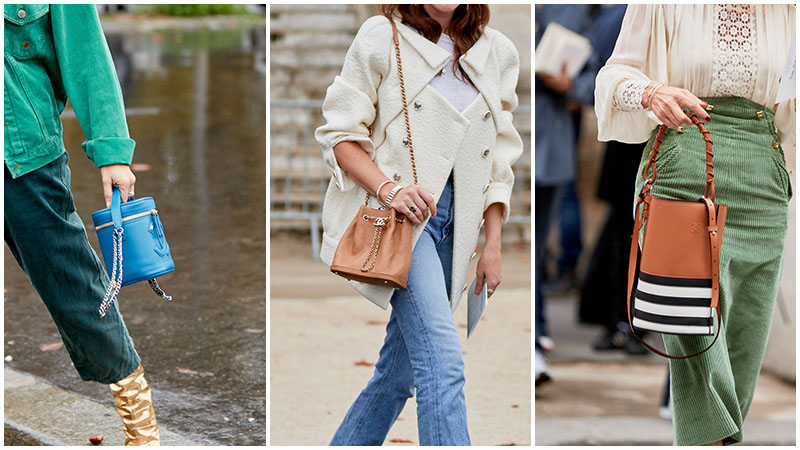 Get the look
3. Square toe strappy sandals
When trends come and go, you always stay stylish: an elegant pair of sandals. There have been tons of square toe shoes this season, and for good reason. This flattering strappy finish lengthens legs and creates a unique silhouette for any outfit you wear. Though best worn in the warmer months, you can pair sheer tights or socks with your shoes for enhanced usage. Choose from light shades to breathe life into your ensemble, or keep it classic with traditional colors like white, black, or brown.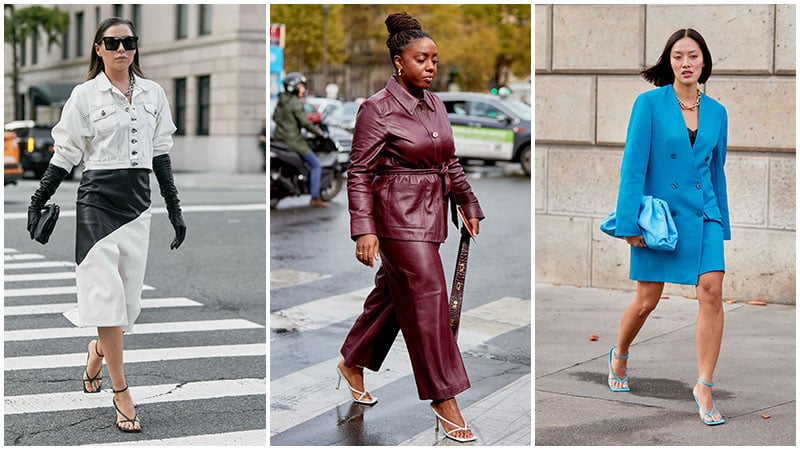 Get the look
4. Statement large chain necklaces
Every month of the year an outfit would not be complete without a stunning piece of jewelry. 2020 is no different as large chain necklaces find their way into the top of the season. From oversized and chunky designs to a delicate yet eye-catching piece, these accessories are an easy way to tie an outfit together. Combine it with a blazer, a turtleneck or even a sweater – there are no rules with this timeless jewelry. Wear it alone or with a similar sweetheart and you have an Instagram worthy ensemble!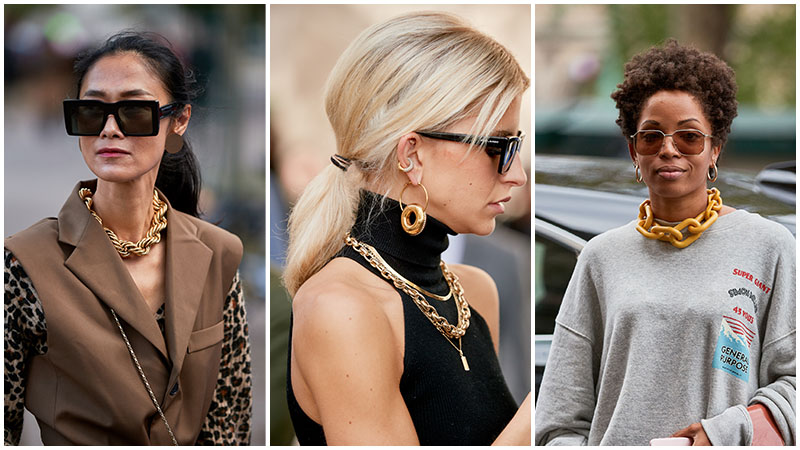 Get the look
5. Soft couplings
If you followed that latest trendsYou will know the soft clutch is the ultimate bag of the season. Originally designed by Bottega Veneta, this is an oversized and classy accessory that looks stunning on any occasion. These beautiful handbags are easy to carry and have plenty of space inside. They look like a pillow and are a dream option for any style conscious person. Choose from a timeless shade like light brown, black, or white, or go out of the box with a purple, green, or red option. They look fantastic in a casual setting but are easy to turn into a formal occasion. Fashion is about bending the rules. So why not with this incredible bag?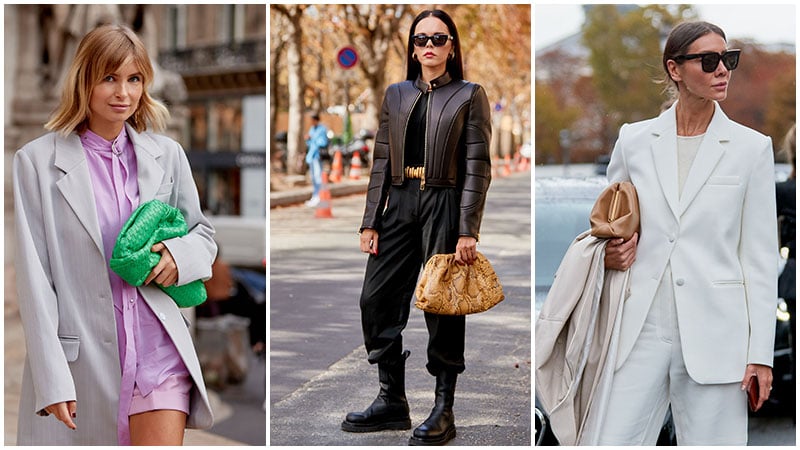 Get the look
6. Wide waist belt
Tie any ensemble together with these trendy belts. Sitting at the mid-waist creates an instant hourglass shape that completes your attire. This is a versatile accessory that will suit everyone this season – wear it with a dress, skirt or pants. there are no rules. How to create a monochrome lookGo for a single shade for your entire outfit. It is an item that will never go out of style. So keep it in your closet for every occasion.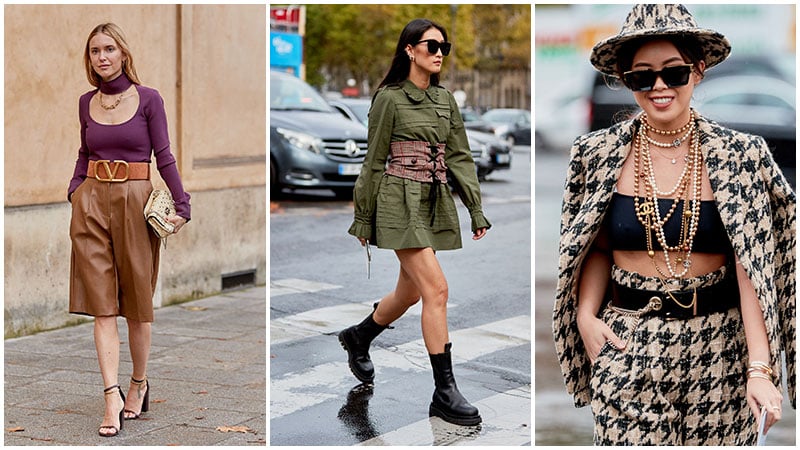 Get the look
7. Padded headbands
Turn any bad day into a good one with one of these trendy padded headbands. It's nothing new, but Prada helped make them hot again this year. These accessories channel your inner Blair Waldorf and look amazing in the center of the head or are pushed back to keep the curls away from your face. Keep it simple by incorporating an everyday accessory into an intricate ensemble, or go a step further by wearing it embellished. There are so many ways you can wear this beautiful item, so have fun with it!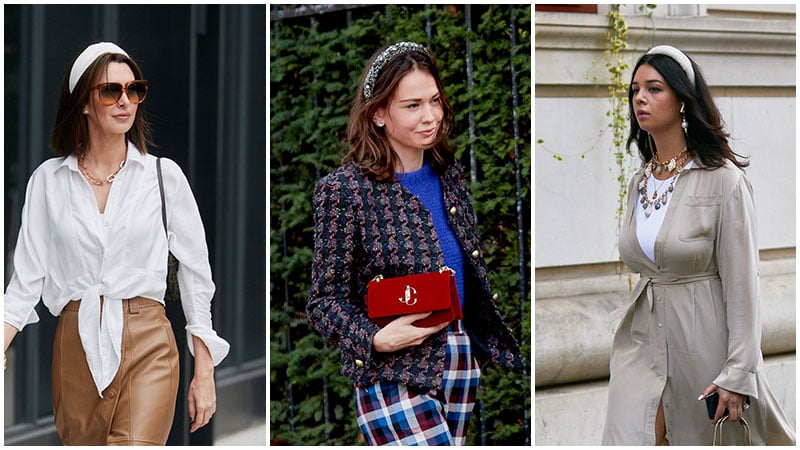 Get the look
8. Hoop earrings
With another comeback, this accessory will be one of the biggest trends next season. These round earrings are a great way to spice up a simple outfit or add the finishing touch to your favorite ensemble. Choose between a simple design and something over the top with beads, patterns or embellishments. Tires look best with your hair behind your ears Ponytail or a Good – Show off your stunning jewelry with pride.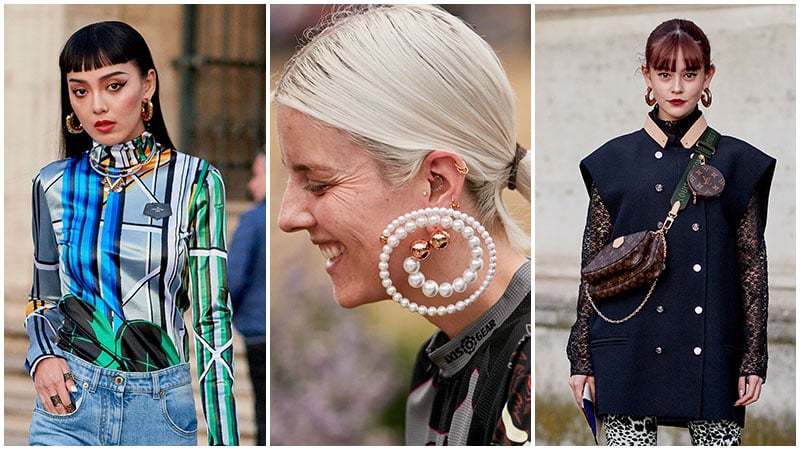 Get the look
9. Colored sunglasses frames
When the temperature warms up, protect your peepers in style with colored sunglasses. With a lively frame, they instantly add drama to your existing outfit and bring your entire collection into shape. Choose from a design with a bright exterior and a traditional interior and leave it monochrome with the same hue throughout the accessory. Like the other trends during the season, these sunglasses are timeless and always stay stylish.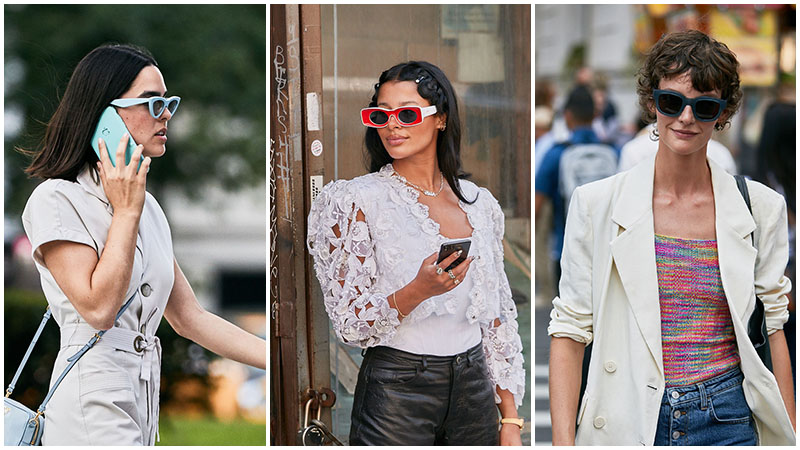 Get the look
10. Bucket hats
Defending yourself against the sun has always been in vogue, as this trend proves. The bucket hat comes and goes throughout the season, but its effortless style always stays the same. Characterized by its short, sloping brim, which sits directly above the eyes. As a summer accessory, you can rock this in different colors and it will complete any outfit. Choose from pink, charcoal, or white – experiment with hues and find out what works for you. Opt for a leopard or snakeskin print to pop your outfit – a versatile option that will make you look and feel cool.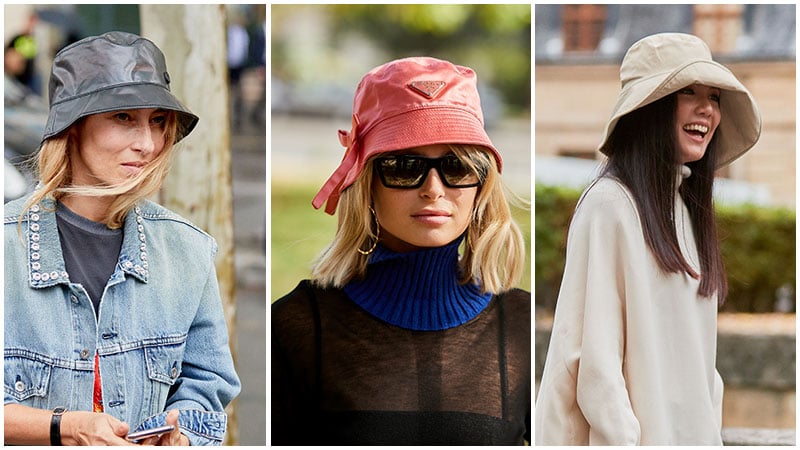 Get the look
11. Mini pocket on your pocket
Why have a bag when you can have two? A big trend this season is the mini-bag attached to a handbag as seen by Louis Vuitton and Chanel. These wallets are great for extra storage, even if it's just a lipstick or a pair of spare earrings. You can find this accessory in a variety of colors so you can opt for a bag in a traditional shade or something avant-garde. This is the perfect way to complete any outfit, whatever the occasion.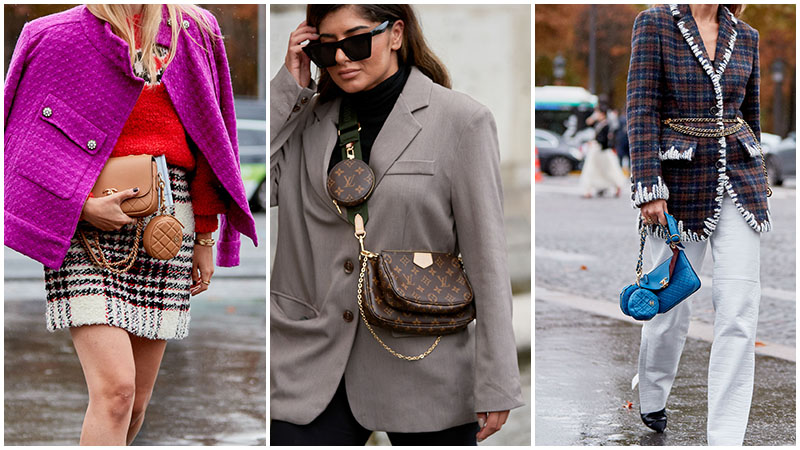 Get the look
12. Multi-colored pockets
Liven up any outfit with one of these trendy multicolored bags. Unlike previous years, this bright design offers more than two shades – think blue, red, green and yellow at the same time. Make something amazing out of a blank canvas of an outfit – this accessory will make you feel like you are walking around with a piece of modern art anytime.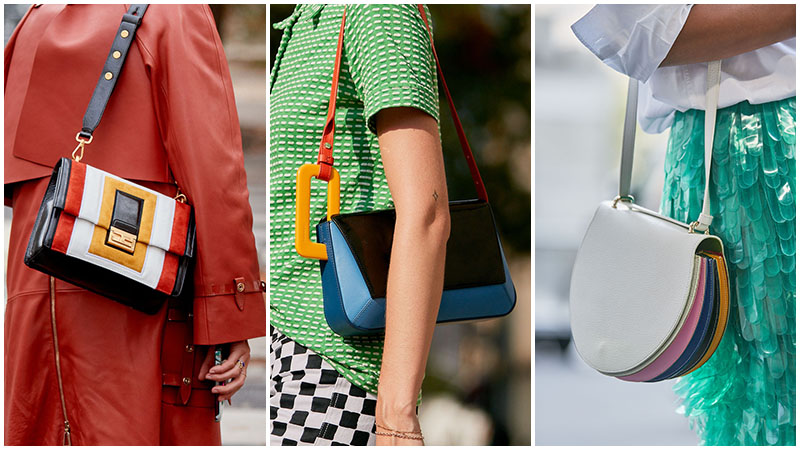 Get the look
SUBSCRIBE TO OUR NEWSLETTER
Subscribe to our mailing list and receive interesting information and updates for your e-mail inbox.