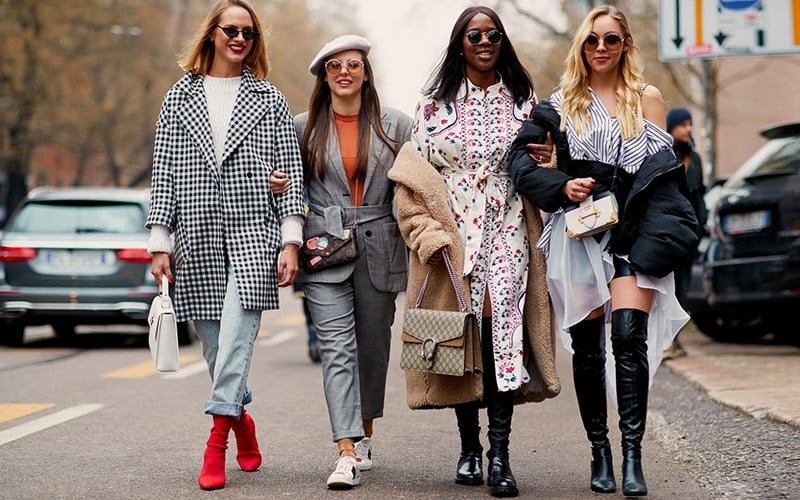 The European fashion weeks have come to an end and leave us with endless outfit inspirations and a little insight into the trends for autumn and winter. From sheer skirts to power suits, plaid, vinyl and even a touch of matrix, the trends for Fall / Winter 2018 are looking fantastic. So grab your striped pants, put on a pair of socks, and prepare to scribble political messages on your purse. To see what we mean, check out the top fashion trends from European Fashion Weeks AW18.
1. Sheer skirts
The street style stars of the European Fashion Weeks advocated sheer skirts. We know this can be a bit of a challenging trend, but when done right, it elevates any look from basic to très chic.
It is known that style bloggers and fashion editors are following this trend a little more risky. Think of sheer skirts over high-cut body suits and underwear. Which we certainly love, but it's probably not for the meek among us. This doesn't mean that you can't try this trend while staying a little more humble. Wear a sheer skirt over tight, high-waisted shorts or a figure-hugging mini dress. You can also wear them with short, tailored pants or Skinny jeansor opaque black tights with a casual t-shirt and combat boots.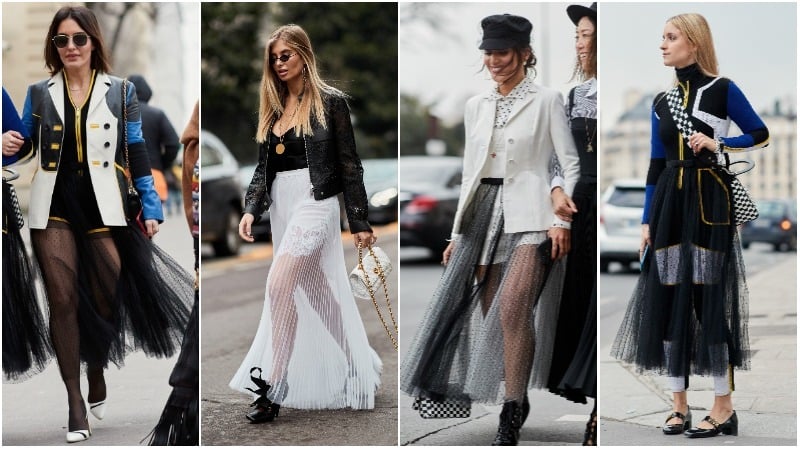 2. Pastel powersuits
Ladies welcome back to the world of power dressing, and we can just say it's time. These pastel-colored power suits are so Jackie O-La-La and go so well with the current fashion climate. Pant suits make a statement, there's no denying that, and you should never be afraid to rock one. These pretty pastel colored power suits are the perfect combination of strong and sexy and prove that femininity and sexuality don't always have to be expressed through tight skirts, short tops and deep necklines.
For a traditional look, wear a power suit with a ruffled Victorian top or a collared shirt. If you want to be a bit more modern, wear a suitable combination of blazer and pants with a casual T-shirt, a bralette or no underwear at all. Powder blue, baby pink and lavender are the hero colors of the season.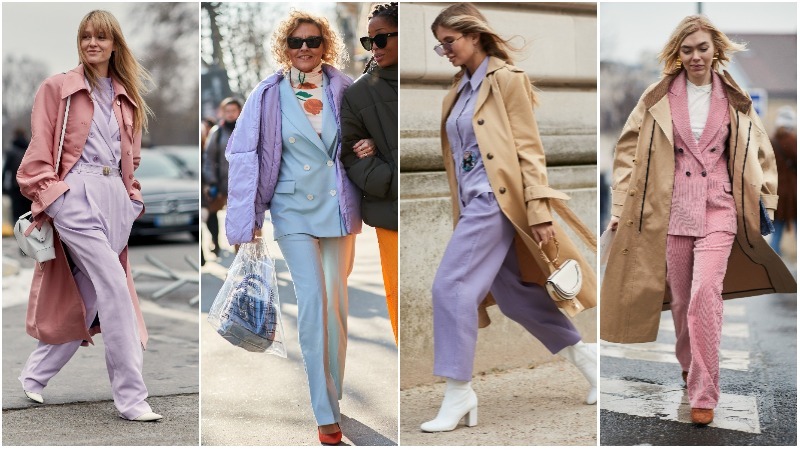 3. Vinyl pants
According to the European Fashion Week elite, shiny vinyl pants are big news for fall / winter. There has actually been an influx of vinyl and PVC clothing, but these patent leather pants are probably the easiest to wear.
Instead of jeans, these pants elevate any look from standard Street style Default. Equal parts chic and cool, vinyl pants will let go of your inner wildness and make you feel great. Try rocking a pair with a slogan tee and gingham blazer, or a striped boyfriend shirt. You can also wear these with fur coats, mohair cardigans, knitwear, or puffy bombers with sneakers or tennis shoes. Or wear a pair with your favorite band T-shirt, a used-look denim jacket and biker boots.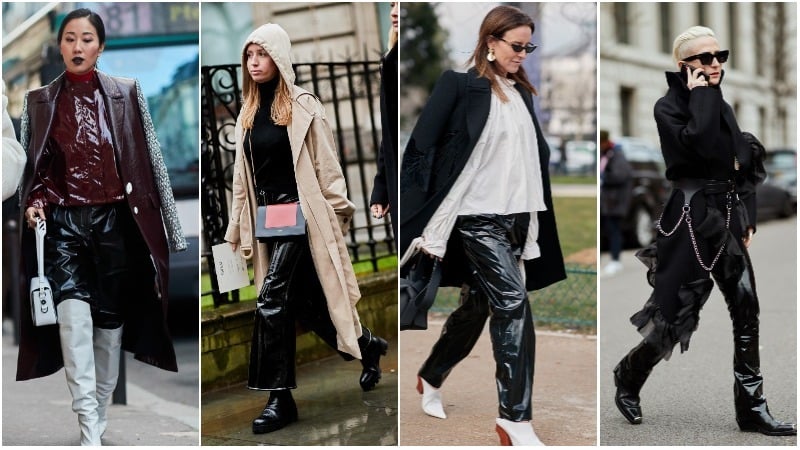 4. White ankle boots
White Ankle boots have surprisingly become one of the most important trends for autumn / winter 18 straight from the 1970s. Almost every fashion blogger, editor, model, designer and celebrity adorns the feet of Paris, London, Milan and the US even at New York Fashion Weeks.
From neat to punk, from rocker to country, strong white ankle boots are just as versatile, but a little more fun than their black counterparts. Dress up a couple with plaid or pastel Pencil skirt and colored shirt or knitwear for a pretty preppy look. Or rock them with a jumpsuit and slogan t-shirt for something a little edgier. They also go well with long dresses in striped or floral patterns or solid colors or with jeans, t-shirts and jeans or leather jackets. Dress them up with a little black dress or skirt and go for an evening with the girls or with a formal dress for a relaxed street style look. Basically, you can wear your white boots with anything.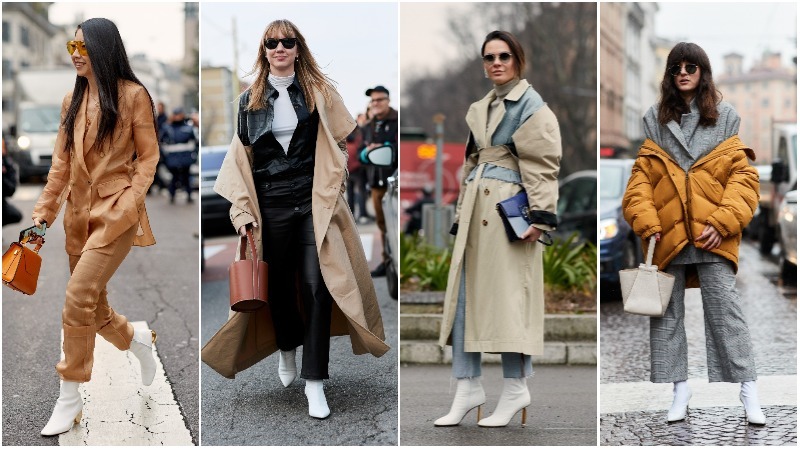 5. Sports stripes
The legacy of the sport lives on when fashionistas adopt the sports stripe in their street style look. Typically associated with sweatpants, the sports strip has moved from casual to chic, faster than most people who could rock it. Especially when you consider that many of them wear these striped sports pants along with their high heels.
For all of the sporty spices, or even those who want to wear active clothes without wearing real sportswear, this cool girls trend is one for you. It just has a hint of relaxed confidence, not to mention that it's super comfortable. The vertical stripes elongate the legs and somehow don't look weird or out of place when worn with smarter or more elegant ensembles. Try this trend with a blazer that matches the color of the stripe or a playful color-blocked cardigan over a sports tee. Chucky knits, bomber jackets, and baseball caps are also recommended.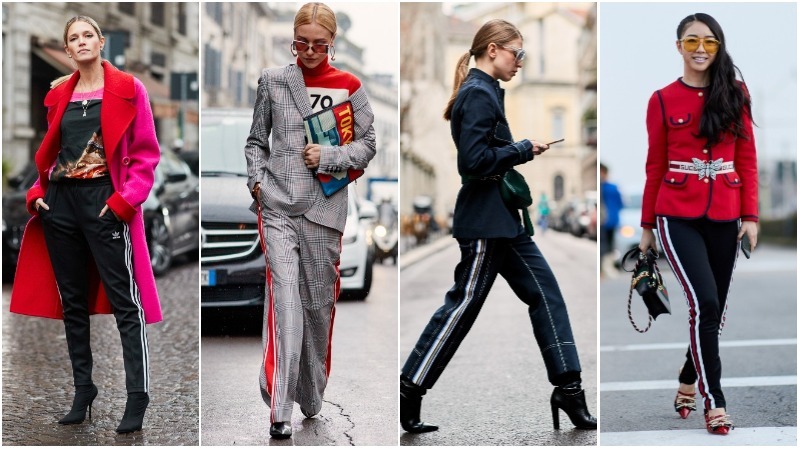 6. Socks and cures
Say goodbye to cold feet because it's officially cool to wear heeled socks. Most wouldn't go for socks and sandals at this point, but you never know what the next year might bring. This trend is preppy perfection and a pair of stylish socks, make super cute and creative accessories and keep your toes warm.
Try this with your sports stripe look, or pull on socks and a pair of strappy heels with a printed dress or pants. Try it with a fitted blazer and tailored shorts, or with casual jeans and a plain white t-shirt or sweater.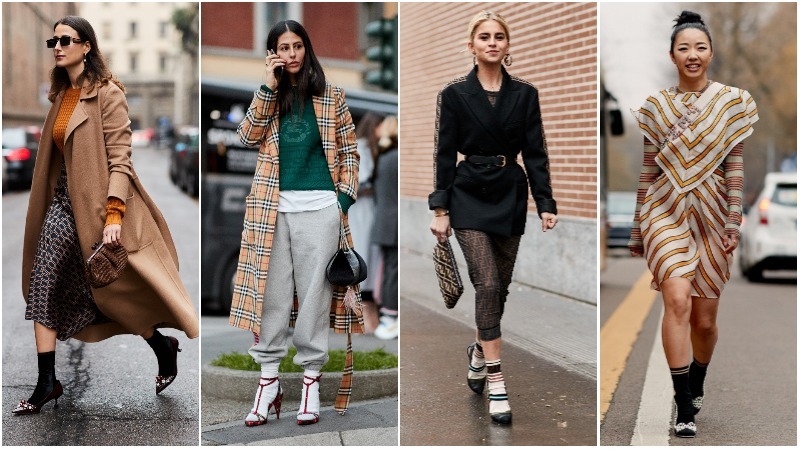 7. Statement pockets with writing
Accessories have always been one of our favorite ways to make a statement, and these printed bags are sure to say something. Fashion is one of the best ways to express yourself and your opinion. Thanks to this trend, you can be anything but subtle about it.
Add some flair to your style and let the world know what you're about by printing your favorite saying or word on your handbag. Or have fun with a clutch decorated with "Wow" or "Love". Words and fashion are as powerful as each other, so it is high time they come together.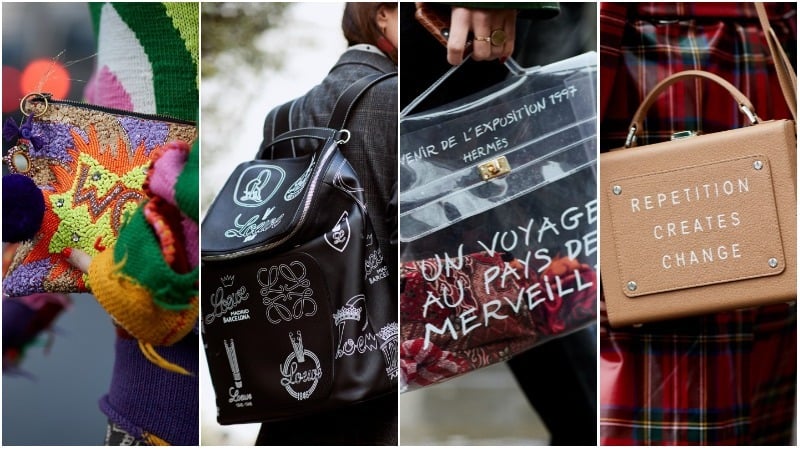 8. Checkered raincoats
Plaid is a basic fall / winter print and will be forever visible in a variety of ways during the fashion weeks, from skirts to pants, scarves and raincoats. That pressure has really stood the test of time.
From classic gray to lumberjack red to fluorescent yellow, these plaid raincoats could arguably be the most inventive and practical use of print. Rock your coat over a pencil skirt with tights and boots or used-look jeans and a wide sweater. Combine the colors or take one of the stripes and match the color to your underwear or accessories. These cozy coats also go with your athleisure look, socks and heels or vinyl pants.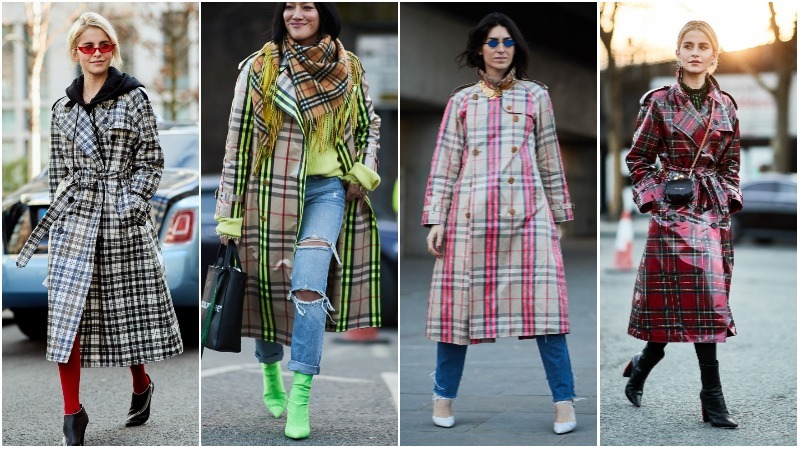 9. Matrix Coats
Speaking of recharged raincoats: These Matrix coats made of leather and vinyl are just as revolutionary as their checkered partners. Drop your classic raincoat for one of these badass alternatives this year.
These Matrix-inspired trenches will keep you just as warm and dry as any raincoat and add a touch of high fashion to your look. Try a black vinyl coat over fitted black pants with a white high neck sweater and white ankle boots. Or swap the white for a black turtleneck and put on a bold red coat with white, red or printed ankle boots. You can also wear these jackets over blue jeans with plain white or slogan t-shirts or over dresses and skirts. If you really dare, rock your vinyl coat and pants.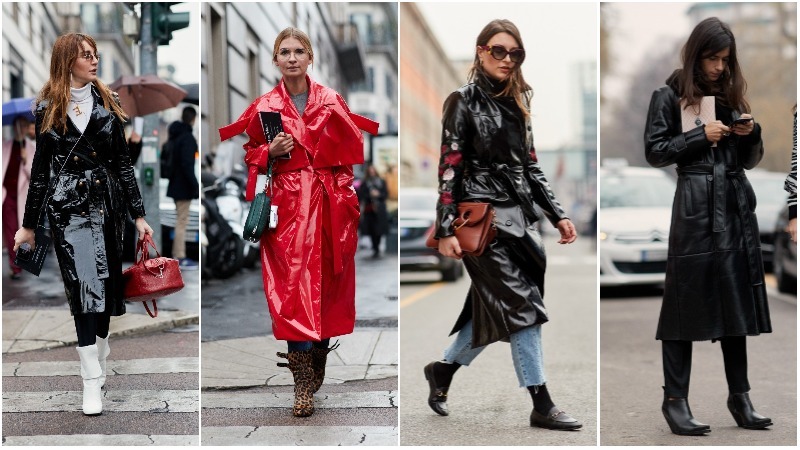 10. Emerald green
While New York Fashion Week was a sunny sea of ​​yellow, emerald dominated the European style scene. This is a beautiful, elegant, and effortless shade that looks great with any skin tone and hair color.
It can be worn as an all-over block color without looking overly over-the-top, or as a subtle pop to add a special difference to any outfit. For a classy corporate look, we recommend emerald green trousers with a tailored white shirt and a black blazer on the shoulders. Or hit the color by wearing an emerald green kitten cure with heavy blue pants. If you love shade as much as we do, why not opt ​​for an emerald look? Try a lighter colored dress with a darker jacket over it.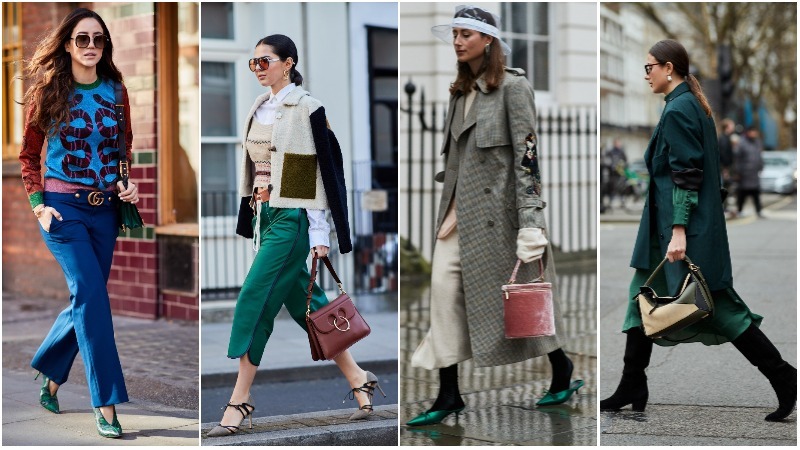 SUBSCRIBE TO OUR NEWSLETTER
Subscribe to our mailing list and receive interesting information and updates for your e-mail inbox.