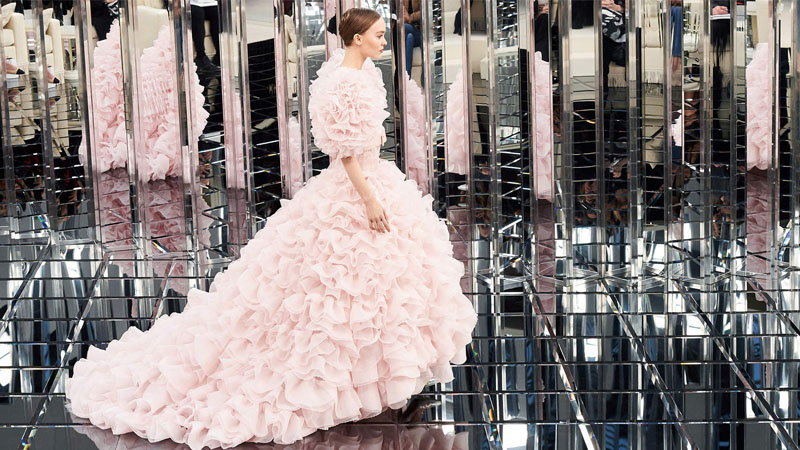 When it comes to discovering the top bridal trends, there is no better place than Couture Fashion Weeks. Always at the forefront of innovative fashion and modern style, the couturiers know what it takes to design and create an incredible dress. This year, these masterful fashion houses like Chanel, Christian Dior, Valentino, Elie Saab, Francesco Scognamiglio, Zuhair Murad, Giambattista Valli, and Schiaparelli have shown us that both minimalist and maximalist designs are going to whiz down the aisle.
From clean cut lines and simple designs to towering layers and elaborate embellishments, 2017 wedding dresses will undoubtedly complement both ends of the spectrum. So let yourself be inspired, because you are sure to find the perfect clothing style for your special day under these looks. Whether your taste lies with sharp and sophisticated designs or glamorous and dazzling dresses, these couturiers have created unique designs to inspire you.
1. Minimalist
The minimalist trend, which now encompasses all aspects of our wardrobes including bridal wear, has been a favorite for many years and continues to dominate the fashion world. Of course, its consistent popularity is not without reason. Subtle, sleek, and contemporary, minimalist designs are attractive to countless modern women, including brides. The clean lines and simple but beautiful design of minimalist dresses make them an excellent choice for ladies who want to walk down the aisle. When it comes to getting this look working, the couture houses prove that it's all about the details. Without heavy embellishment and exaggerated silhouettes, details such as the fabric and its drape and texture become more apparent. So be sure to choose a quality piece of clothing if you want to wear this trend on your special day.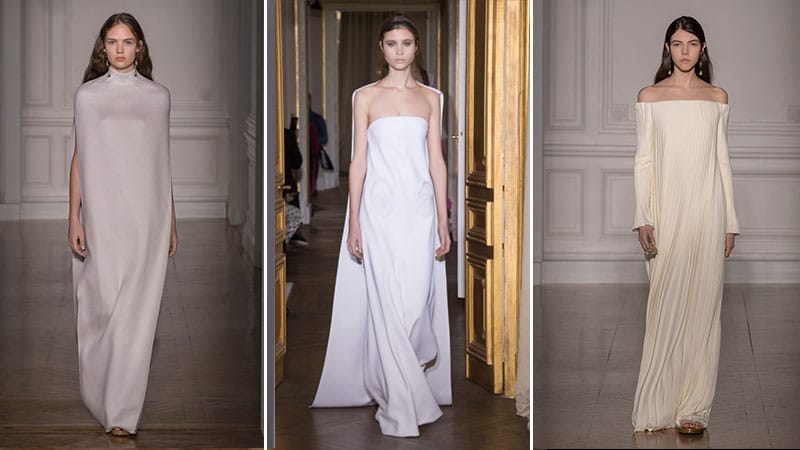 Get the look
2nd levels
While minimalism focuses on the quality of the fabric, layering is all about the use of the material. From incredible frills that sit elaborately on top of each other to pleated scallops, this trend is a thing of beauty. Light and soft, the best of these designs use thin fabrics like tulle, organza, chiffon or sheer lace and create volume and density through layers, like the Chanel dress by Lily-Rose Depp. While the soft pink ruffle design can be too much for some brides, it can tone down the overall style without sacrificing aesthetics. Instead of numerous layers of fabric, choose only a few in order to achieve the right volume. Alternatively, try focusing the layers only on the skirt of your dress while keeping the top relatively low-key. This creates a nice balance with the focus on your lower half.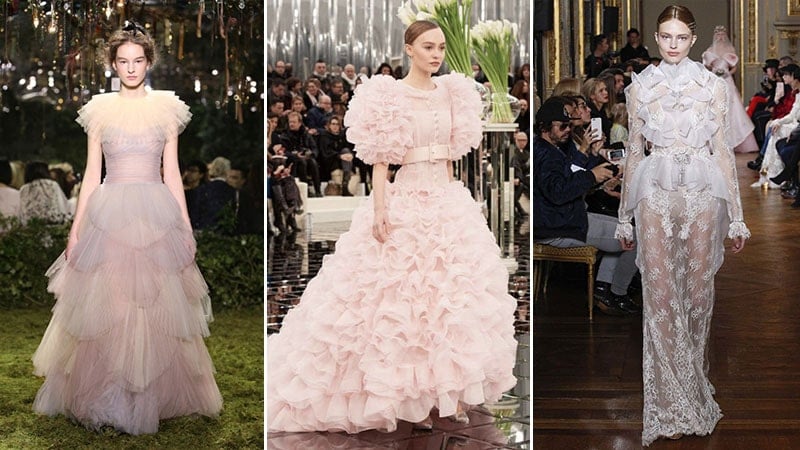 Get the look
3. Flowers
This year, the floral motif will be adopted by bridal fashion and taken to a new level. Although the typically delicate style of flowers is still there, the intensity is higher than ever. Whether lace, appliqué or even pearls, flowers will be bolder and more eye-catching for 2017. Perfect for the bride who loves a feminine look, but also wants something unique that gasps her guests for air, the modern floral dress is both ladylike and daring. In order to wear this trend yourself, do without restrained designs and choose maximum details instead. Larger flowers and blooms, contrasting colors, and flowers that climb around entire dresses are on the menu for 2017 and are all divine. Just think, the more intense your flowers, the more unforgettable your wedding dress will be.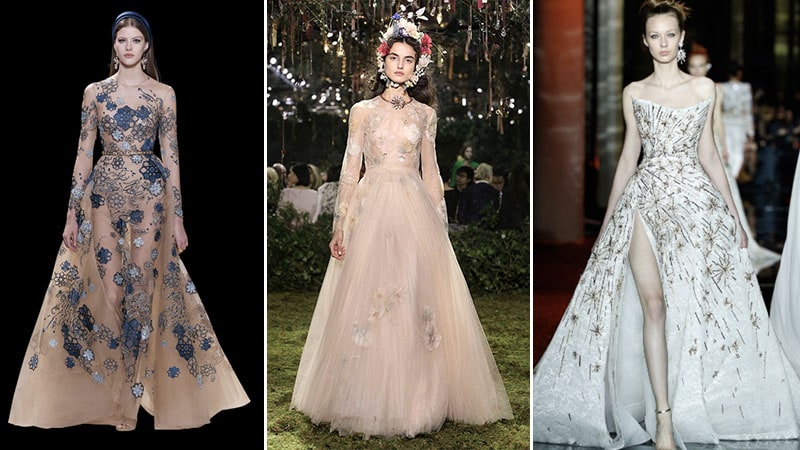 Get the look
4. Pearls
Embellishing wedding dresses with pearls has long been a popular way to create a distinctive style for a special day. Elaborately adorned with intricate patterns and designs, pearl dresses scream for glamor and style. For 2017 brides, a beaded wedding dress can make a chic and stylish choice. The added sparkle and glitter of the pearls will undoubtedly make your gait a shining success. While the trendiest versions of this look feature all-over embellishments, classic brides can keep the style more traditional with just a small fraction of the pearls. Likewise, colored pearls, such as those in silver and black, create a striking contrast to pastel-colored dresses, while clear and white embellishments harmonize with your dress to interpret the trend in a more subtle way.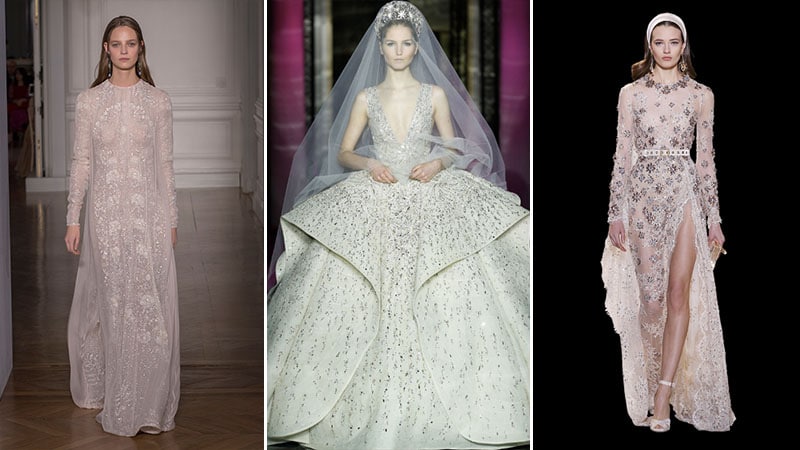 Get the look
5. Tribal
Although tribal designs are common in casual wear, they are not spotted often in the world of weddings and bridal gowns. This year that's changing. The haute couture houses have decided that tribal is the slickest new trend for 2017 weddings. Ideal for the fashion-conscious bride who likes to throw away the rule book. A tribal dress is unique and defies traditional designs and wedding dress norms. Fringes, pearls, and graphic patterns are the main ways to make this look stand out. Don't forget about the rest of your outfit, however. Unlike other bridal trends, this style is not just about the dress. Accessories like shoes, jewelry, and even headbands can be used to add a touch of elegance to your tribal wedding look. Just make sure you don't go overboard with extras or your accessories will be more likely to compete with your dress than complement it.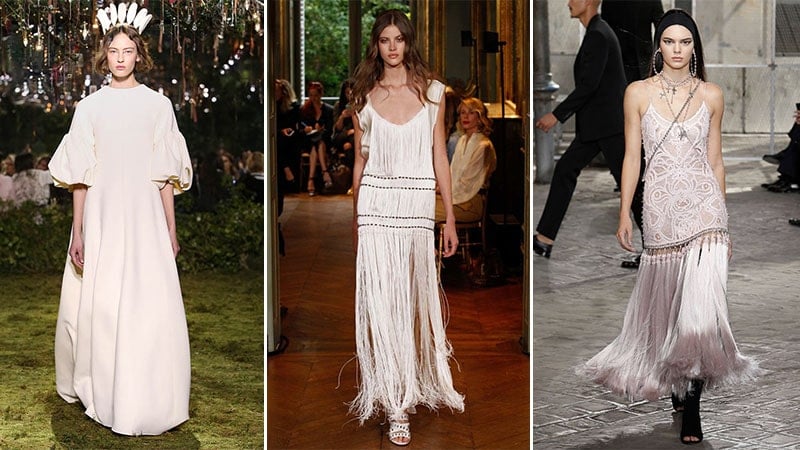 Get the look
SUBSCRIBE TO OUR NEWSLETTER
Subscribe to our mailing list and receive interesting information and updates for your e-mail inbox.