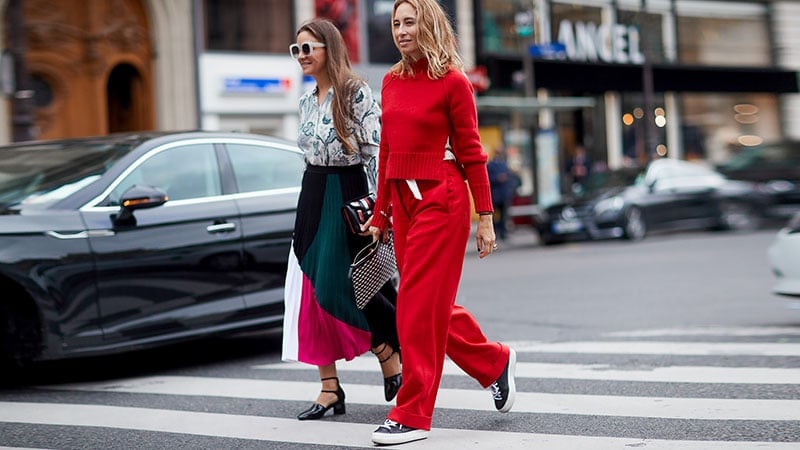 This year we've seen a lot of exciting new looks in the fashion industry. Where there used to be minimalism, there is now a loud and proud maximalism. Some incredible and seriously noticeable trends have emerged over the course of the year. If you're wondering which of your last purchases you can continue to wear in 2018, you've come to the right place. To help you get your wardrobe in shape for the New Year, we've compiled a list of the top 2017 fashion trends that will stay here.
1. Checks and plaid
When it comes to prints and patterns, vintage checks and plaids dominated 2017. Thanks to their nod to the '80s power suit, these classic designs sparked the feminist spirit of the year with no slogans or sayings. In 2018, checks and plaid looks will continue to rule as must-have patterns. While the blazer was the most popular plaid product this year, things will look different for the months to come. While a plaid jacket is still a worthwhile investment for those who don't already have one, other items with the pattern, such as pants, skirts, and even accessories, are becoming staples as well.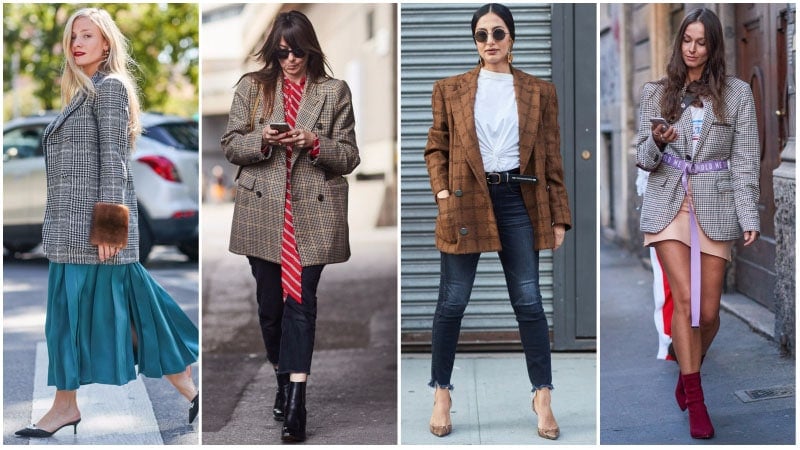 SHOP THE LOOK
2. Red everywhere
It might not have been Pantone's color of the year, but red was certainly the fashion choice. In 2017, this fiery hue cast a spell over the entire industry. Under the unofficial motto of the year "More is more", street style stars have donned the color from head to toe to achieve a bold and eye-catching look. Fortunately for those who love red, this flavorful hue will last through 2018. So get hold of red tops, pants, dresses, jackets, accessories, and more because that color will remain for now. However, be sure to save a little space in your closet. Purple promises to be popular again in the New Year.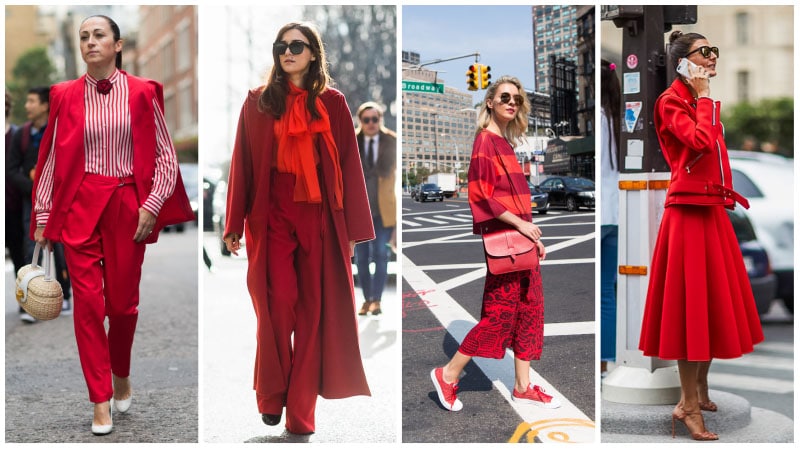 SHOP THE LOOK
3. Bold earrings
While '90s style chokers are on the way out, bold earrings are here to stay. From shoulder-grazing tassel styles to decadent chandelier designs, statement earrings of all kinds will continue to be popular in 2018. Perfect for adding a bold touch to a standard daytime outfit or creating a nighttime look, bold earrings are great for any time of the day. So wear them anywhere and anytime in 2018 for some fun fashion. Best of all, with so many options available, it's easy to find a pair that suits your personal style.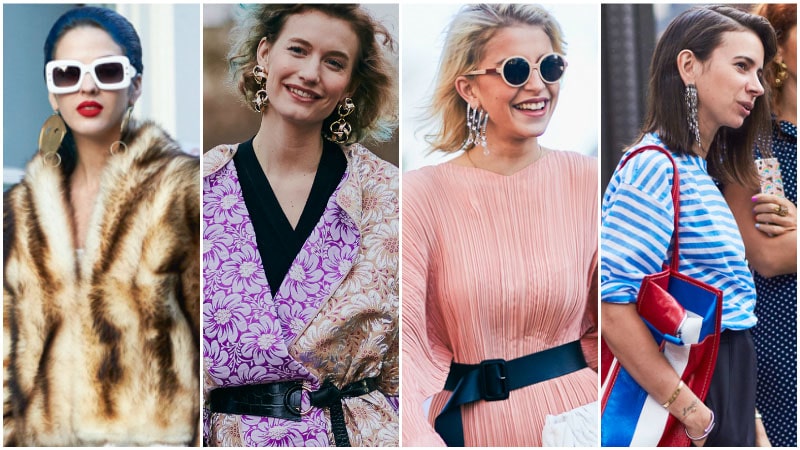 SHOP THE LOOK
4. White ankle boots
Thanks to the trend of white boots, you can start the new year with fresh feet. While many shoe colors were popular in 2017, including gold, silver, and red, we will likely see the most of white in 2018. To rock this trend next year, choose between sleek kitten heel styles and chunkier block colors. high heeled designs. Remember, keeping your white boots clean is an integral part of this look. Scratch marks, dirt, and mud will quickly transform your look from chic and sleek to sloppy.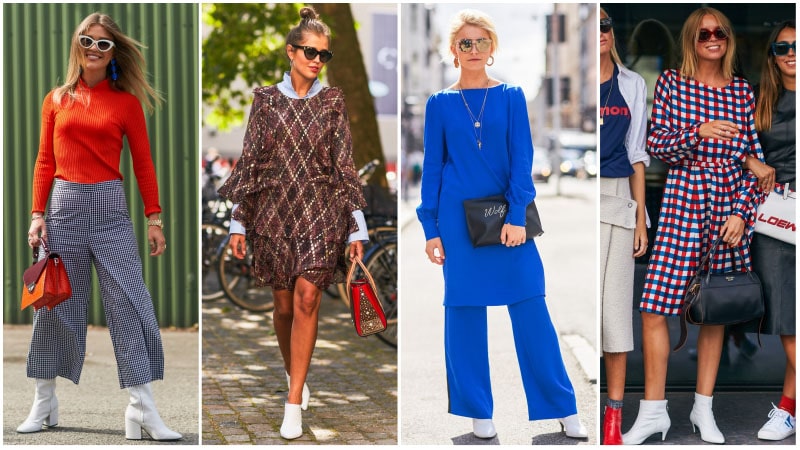 SHOP THE LOOK
5. Belt bags
It may have come as a surprise to many, but bum bags quickly became one of the major trends this year. Thanks to their practicality and unique fashionable appeal, these hands-free handbags dominated the street style scene in 2017 and this look will reach the highest popularity in 2018. These reinterpreted belt bags are no longer reserved for the daring and can now be carried by anyone. All you have to do is make sure you choose a style that goes with your outfit. For example, an oversized belt pouch with a plastic zipper will fit one Sports Outfit, while a delicate pink velvet belt bag suits a feminine ensemble.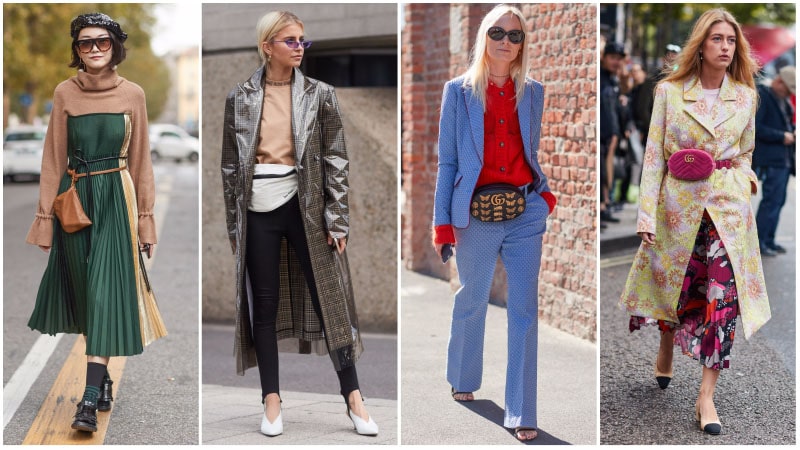 SHOP THE LOOK
6. 60s flowers
You can unleash your inner flower child for the next 12 months as the '60s floral prints continue to bloom in the fashion world. No longer just for your grandmother's couch, these unique prints take dresses, skirts, overalls, pants, tops, and even shoes to a stylish new level. To enhance the look, choose parts with large and light flowers on a dark or muted background. Also, choose pieces with artistic appeal and don't be afraid to pair up a really groundbreaking floral look.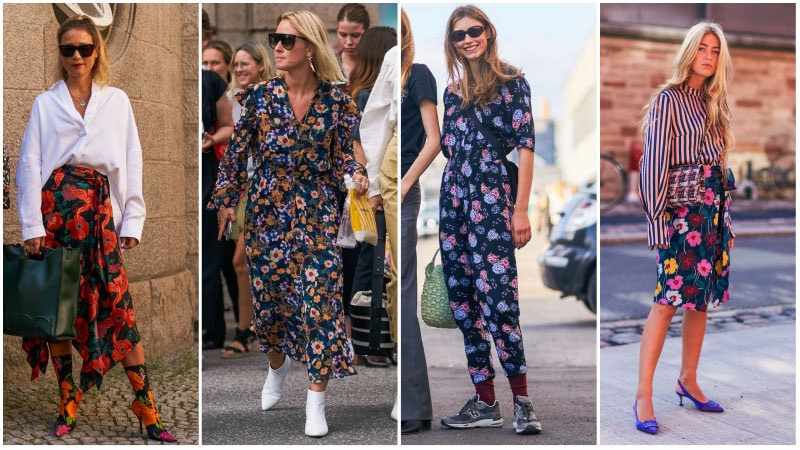 SHOP THE LOOK
7. Matrix glasses
This season has proven that accessories don't have to be big to make a big impact. As slim as they are eye-catching, the "Matrix" glasses are having a big moment and promise not to go away anytime soon. These streamlined glasses are a current favorite among street style stars, editors, and celebrities. From chic cat-eye versions to super-slim oval designs, "Matrix" glasses of all kinds will dominate glasses in 2018. The best thing about it? Her retro-meets-futuristic style goes with almost any outfit or ensemble. Just choose a style that suits your face shape.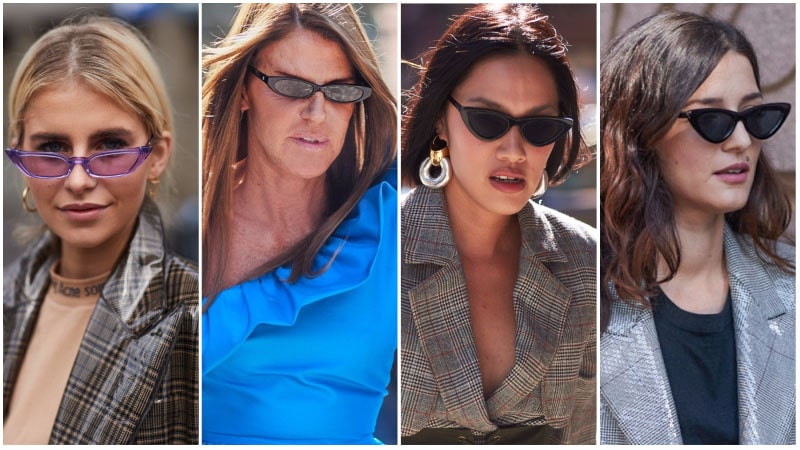 SHOP THE LOOK
8. Statement suits
Women's fashion was loud and bold this year with bold colors, prints and designs that made waves throughout the show season. Statement suits in particular really picked up speed and provided many eye-catching, coordinated looks. From bright yellow tones and bold stripes to unusual checks and creative cuts, the suit was taken out of the office and brought back onto the runway. So if you are in need of a sharp but seriously stylish look in 2018, take some inspiration from this trend.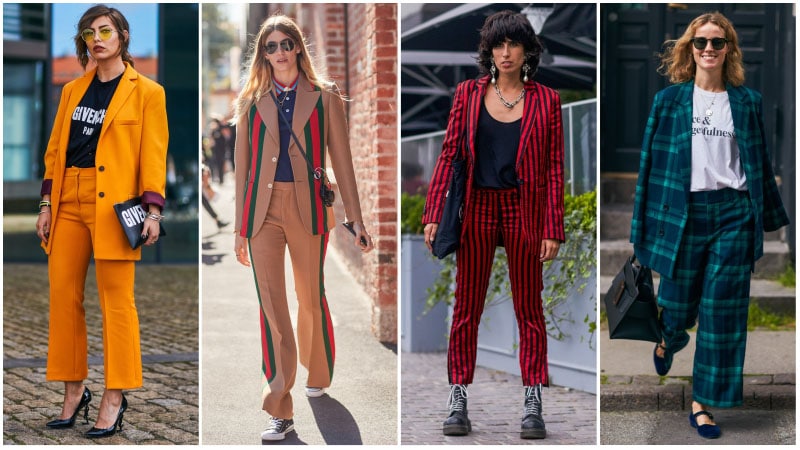 SHOP THE LOOK
9. Sequins a day
Decadent designs broke away from their evening wear label in 2017 when glamorous sequin looks emerged in daylight. These daytime sequins quickly caught the attention of street style photographers and became a major trend. In 2018, more of these repurposed party gowns will undoubtedly hit the streets. To rock the look for yourself, just dress up a sequined design with a plain white t-shirt underneath, a relaxed coat over it, and casual sneakers on your feet.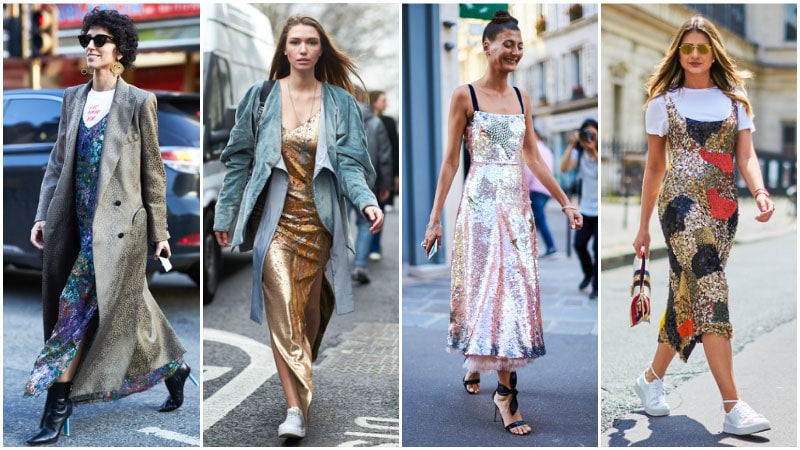 SHOP THE LOOK
10. Berets and Baker Boy Hats
Hats made an impressive return in 2017 and seem to be growing in popularity in the new year. This year's favorite toppings were berets and baker's boy's hats, moving away from fedoras and the wide-brimmed styles of previous seasons. These chic and uniquely stylish hats went with a wide variety of ensembles in 2017 and will continue to do so in 2018. Would you like to add one to your wardrobe for everyday occasions? Choose from simple black designs, edgy leather styles, and those with a retro aesthetic.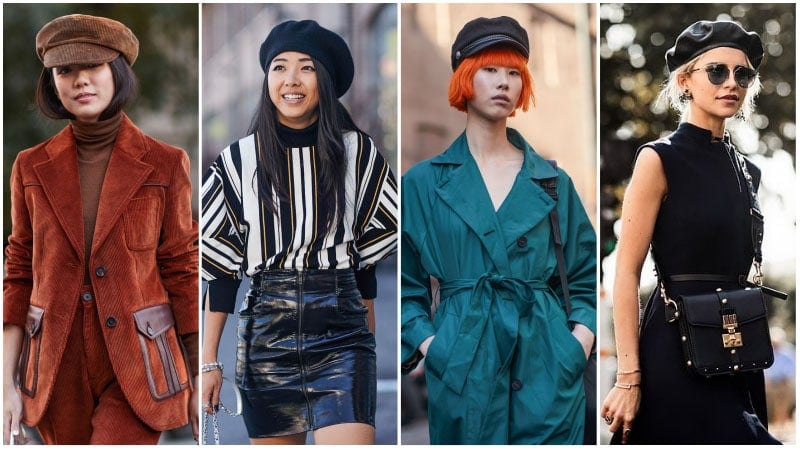 SHOP THE LOOK
SUBSCRIBE TO OUR NEWSLETTER
Subscribe to our mailing list and receive interesting information and updates for your e-mail inbox.